AUTECH Solati (H-350) Ambulance
Infection- Negative Pressure/Special
Preparing Video
▶
Introduction of AUTECH Solati (H-350) Ambulance(Infection- Negative Pressure/Special)
The AUTECH Solati ambulance was introduced with the goal of creating a way to safely and rapidly transport infectious patients.
The vehicle has a large space for patients and can be driven and maneuvered safely beyond the limits of the Korean domestic chassis.
It is equipped with a variety of medical equipment, such as a isolation tent for infectious patient, in addition to a variety of first aid equipment to prevent the secondary spread of infectious diseases and to quickly transfer patients.
It is also a multi-purpose ambulance that can be used for large disasters or general patient transportation.
AUTECH's infection ambulance is Korea's first new concept of negative pressure ambulances.
It was developed through a technical collaboration between AUTECH, an ambulance vehicle specialist company, and AUTECH Carrier, a leading air conditioning system company.
Equipped with advanced negative pressure equipment, AUTECH's infection ambulance blocks the secondary spread of infectious diseases during transport of infected patients.
In addition, the spacious area for the patient provides a secure and sufficient medical space and is designed so that patients can be transported in a stable manner.
EXTERIOR
FRONT VIEW

LEFT VIEW

RIGHT VIEW

BACK VIEW
Exterior Features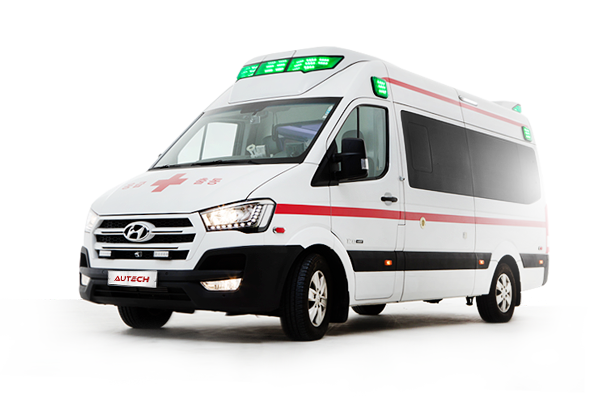 +Automatic Headlight flashing/Blinker
+Front side primary warning lights
+Side warning lights
+Rear warning lights
Rear camera
(External 4-channel video recording)
+Patient room rear door
Main stretcher (5 steps)
+Patient room entrance/Auxiliary footrest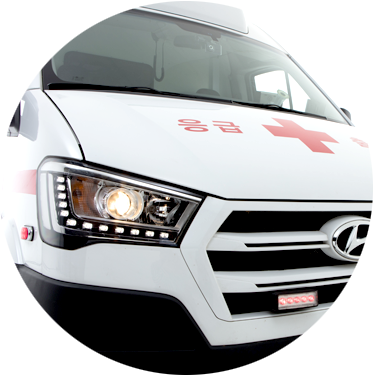 Flush high-brightness LED warning lights and other lighting devices
(AUTECH-developed products)
Surround-view camera (front, back, left/right) : Increases visibility of surroundings when parked or traveling at a low speed
External fresh air intake : Provides a pleasant indoor environment through
air ventilation at least 12 times per hour in the patient room
Four types of sirens
Quick and easy response with left, right, and rear LED work lights
Easily enter and exit the vehicle by using the side step and rear step
"OPEN & ON" system that turns on work lights at the same time
when the rear door is open at night
A/C External power charging
INTERIOR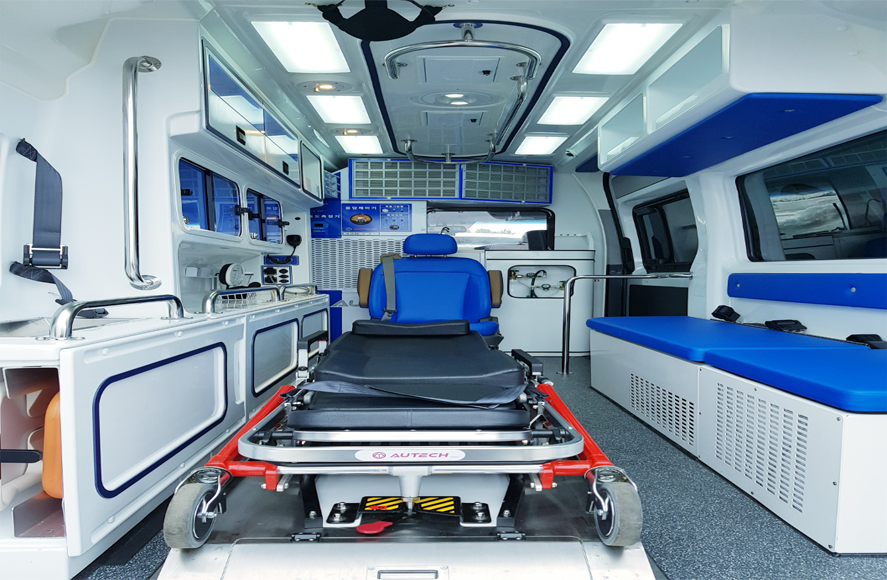 Ambulance was designed to prevent the spread of infectious diseases; first ambulance in Korea equipped with a negative pressure system
(negative pressure ejector and negative pressure conditioning equipment) (AUTECH special feature technology and co-operation technology with AUTECH Carrier).
(0 to -100PA. If necessary, up to -200 is available. 1 to 7 step negative pressure adjustable.)
Includes a negative pressure air conditioner and outlet with HEPA H14 grade filter.
The patient area is sealed with special sealing materials and AUTECH's proprietary technology (full isolation from the driver's cab and the outside).
Installation of various lighting and alarm devices related to negative pressure.
Fast communication with intercom between the driver's cabin and the patient room.
12V DC outlet for emergency medical device installation and inverter installation for AC220V power supply.
Navigator system and interlocking with the rear camera inside the patient area.
Convenient high-performance aspirator for providing initial first aid.
Installation of the upper centralized control panel to control all devices in the patient area in the new rotary emergency rescuer's seat.
Multi-purpose medicine box installation (separate special medicine storage box with lock installed).
Sink and utility compartment (Oxygen tank Stacking).
A front seat and a large capacity medical device are loaded when boarding with a chair and backrest folding seat (AUTECH patent) that can accomodate a second patient.
Internal lighting : two levels adjustable and TRA lamp (integrated).
Loading part that can load and lock auxiliary stretcher and step stretcher.
STRETCHER